The Ger Mandolin Orchestra Story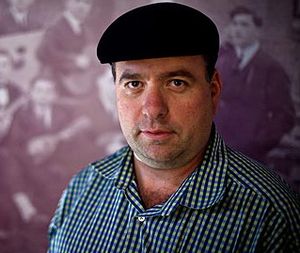 "We have a lot of stone monuments, but this is a living monument...it brings something to life rather than honouring something that's dead."
       -Prof. Barbara Kirshenblatt-Gimblett, Columbia University, NY
        Program Director, Museum of the History of Polish Jews, Warsaw

In March 2011, at the Jewish Music Festival in Berkeley, California, eleven of the world's finest mandolinists came together to create a new musical ensemble, remarkable not only for its artistry but for the story behind its creation. The group was conceived by Israeli-American Avner Yonai (right) whose search for his family roots had led him to a tattered photograph of his grandfather and other relatives playing in a pre-WWII Jewish mandolin orchestra in the Polish town of Gora Kalwaria (Ger in Yiddish). The photograph inspired Yonai to create a contemporary version of the orchestra, as a memorial project for his own family and the members of the orchestra, many of whom perished in the Holocaust.
Yonai enlisted the renowned mandolinist Mike Marshall as musical director of the project, who in turn hand-picked an all-star cast of musicians from across North America, Europe and Israel to join him in the ensemble. Following the group's debut performance at the venerable Freight and Salvage Coffeehouse in Berkeley, Yonai received an invitation from the current mayor of Gora Kalwaria, inviting the ensemble to perform there. Six months later the orchestra returned to the town of its origin, performing for a standing room-only audience in the dilapidated remains of the old Ger synagogue. It was the first public event to take place in this building since the deportation of the town's Jews in February 1941. This extraordinary event was followed the next day by performances at the historic Nozyk Synagogue in Warsaw, and at the mainstage finale of the Singera Festival, in the shadow of the last remaining buildings of the Warsaw Ghetto. The Ger Mandolin Orchestra has more recently performed standout concerts for capacity audiences in Toronto Canada, Santa Cruz and Claremont California, and at the international Jewish Performing Arts Festival "Kulturfest" in New York City.

The Ger Mandolin Orchestra is much more than a memorial to Avner Yonai's family. The Orchestra resurrects a little-known but quintessential Jewish musical form. Mandolin clubs and orchestras were at one time ubiquitous in Poland, Jewish Eastern Europe and in North American immigrant communities. The instrument was frequently incorporated in the curriculum of Yiddish schools, and was closely associated with left-wing social and workers movements. The instrument also provided one of the only means of musical expression for women in pre-war Jewish communities. As a 'social' instrument that brought individuals and communities together, the mandolin was simply unrivaled. While Klezmer and Yiddish folk and theatre music are most commonly associated with east European Jewish music, the centrality of the mandolin and mandolin orchestras in Jewish musical life has long been overlooked. The new Ger Mandolin Orchestra stands now not merely as a 'living memorial' to one particular family or community, but to an entire musical and cultural tradition that has disappeared from Jewish life.